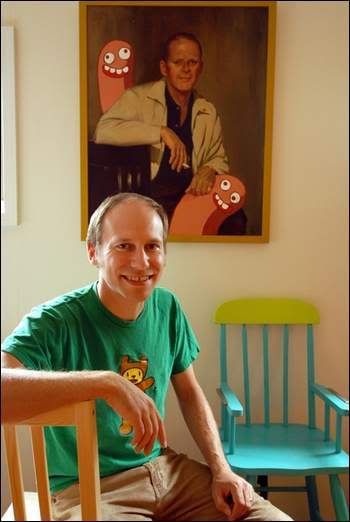 I sat down with James Kochalka (American Elf) earlier this month at his home in Burlington, Vt. Here's the result, which ran in the Sunday Times Argus/ Rutland Herald on Sept. 16.
Cartoonist mines daily grind for new book, comics
September 16, 2007
By DANIEL BARLOW
Vermont Press Bureau
Photo by Jeb Wallace-Brodeur
BURLINGTON – "Squirrelly Gray" may not be the first book James Kochalka has written and drawn for children.
It may, however, be the first he's authored that will be read almost exclusively by kids.
"I think my other books intended for children were mostly read by my adult fans," said Kochalka, a popular indie cartoonist and musician from Burlington. "But I think this book will actually make it into the hands of kids."
The 40-year-old Kochalka, who has spent the last nine years drawing a daily cartoon diary about his life called "American Elf," has long straddled the creative line between entertainment for children and subversive adult humor.
But Kochalka had Eli, his 4-year-old son, in mind when he created "Squirrelly Gray," his first children's book, published last month by Random House. He was appalled by the limited number of books that held his son's interest.
"They're all too safe," he said. "Kids like a little danger and excitement."
More right here.