Walking away from the Boston Zine Fair Sunday evening, I was tired and hungry – but a feeling of utter elation would not go away.
In all respects, the Boston Zine Fair was a success for us this year.
 Trees & Hills debuted SEEDS at the show – our new anthology of food comics, which focus heavily on issues such as sustainability, eating local and eating organic. The comic also features a recipe booklet and a packet of seeds from an organic Vermont farm.
And we did real well with it. By the end of Saturday, I had only two copies left of what I brought with me (luckily Colin Tedford, the other co-founder of the group, brought along his stash too).
I'll admit, we were a bit worried about the Zine Fair this year. The show usually happens in the spring, but fell off the rails a bit this year. So, for this fall premiere the fair was under new management and in a new space. Instead of one giant room with all the vendors, we were split into six or seven smaller rooms on two floors.
That made judging crowd size really difficult. And at any given time, there never seemed to be more than a dozen people in our area. But then something strange happened – my wad of cash containing all our sales got big. And then it got bigger. And soon I was almost out of comics.
By the end of Saturday, we had sold more comics than we had over two days at MoCCA this year.
Sunday ended with Colin and Marek Bennett (the amazing creator of Mimi's Doughnuts) leading a workshop on comics and education and community activism. I missed the workshop 'cause I was at the table selling comics, but it sounded like everyone had a great time and walked away inspired.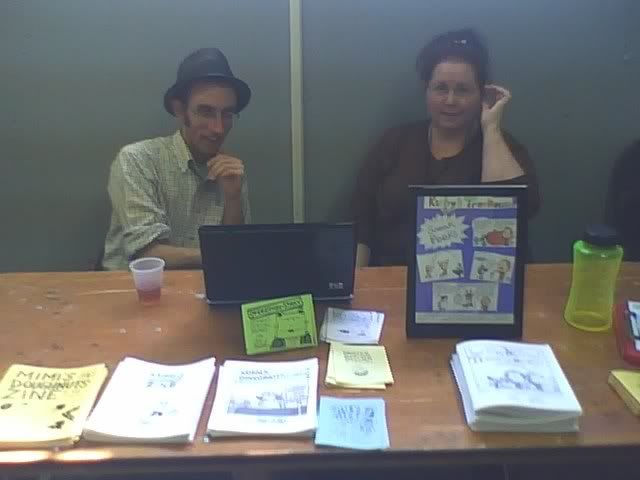 Also joining us Sunday was Anne Thalheimer with a load of booty comics and her famous monster hats and scarves. And tabling both days with us was Sam Leveillee, an amazing cartoonist from Massachusetts who contributed one of my favorite comics to SEEDS. He's only 15 years old (and he's going places!) and this was his first show.
It was also great to see a lot of my friends again. And a big thank you to Matthew Reidsma – please check out his comic, High Maintenance Machine – for putting a copy of SEEDS on his table and sending buyers over to us when they asked about it.
Big-shout outs to Charles Schneeflock Snow, Cathy Leamy, Dave Kender, Dan Mazur (who made everything run on time) and the whole Boston Comics Roundtable group. Sorry if I am missing anyone here – the whole weekend was a blur of friendly faces and new and old names.
I also walked away with some new comics by some great folks. The BCR group had their second issue of INBOUND, their anthology, and I look forward to reading more of that. I also got a copy of HARVEST IS WHEN I NEED YOU THE MOST, an anthology of Star Wars fan comics, which far exceeding my expectations.
Driving home along dark and rainy Massachusetts highways and through New Hampshire towns, Colin and I glowed in the dark over how excited we were.