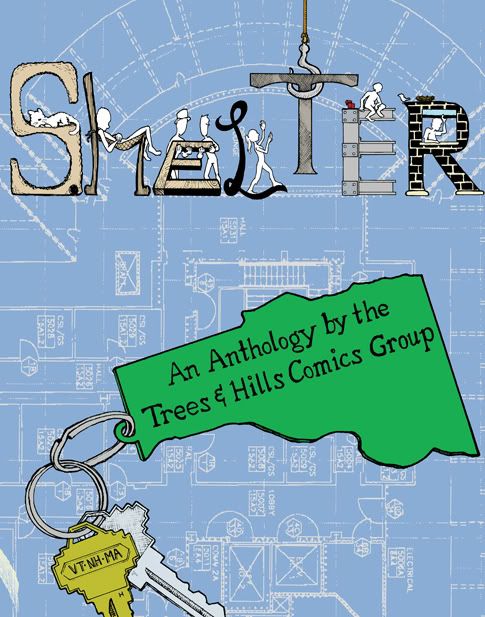 New England group tackles housing issues with new comic anthology
Trees & Hills comic group releases SHELTER this week at major comic festival
MONTPELIER, Vt. – The Trees & Hills comic group believes everyone needs a home.
And this week the New England comic organization releases "Shelter," a new comic anthology featuring more than a dozen cartoonists from Vermont, New Hampshire and western Massachusetts writing and drawing about why we need homes and what happens when you don't have one.
Topics of the comics include alternative living structures and how one of the most basic needs of a society may be moving further out of reach for many people. Twenty-five percent of all sales for the $4 comic will be donated to organizations that work to get people into homes.
"We wanted to take the next step beyond just making comics about an issue that is important to us to actually trying to help," said Colin Tedford, one of the co-founders of Trees & Hills. "Both methods of social change can be equally effective."
Trees & Hills formed in 2006 after Tedford, a New Hampshire cartoonist, met Daniel Barlow, a Vermont writer, at a 24-Hour comic event, a unique challenge that has participants create a 24-page comic in 24 consecutive hours. More than 50 comic creators turned out for the event, held at a museum in Brattleboro, Vt.
"Turns out there were a lot of people right in my own backyard making comics," said Barlow. "Colin and I both realized that we could all benefit from working together.
SHELTER is a follow-up to 2008's comic anthology, SEEDS, which tackled the topic of food – including social issues, such as eating local and healthy (but also how yummy it can be too). The comic was an instant success and is nearly sold out of its second printing.
SHELTER debuts at the Small Press Expo in Bethesda, Maryland on Sept. 25-26. Following the show, the 52-page comic will be available for sale at the organization's Web site, www.treesandhills.org.
The comic features a cover by Matthew Young, a graduate of the Center for Cartoon Studies in White River Junction, Vt. and contributions from Ignatz Award nominees Colleen Frakes and Cayetano Garza Jr.
Other creators in the comic are Marek Bennett, Anne Thalheimer, Jesse DuRona, Tom Pappalardo, Sam Leveillee, Madsahara, Blake Parker and Matt Levin. Tedford, Barlow and Thalheimer served as editors.