Uncategorized
December 10th, 2009 by Daniel Barlow · 1 Comment
May 5th, 2009 by Colin Tedford · No Comments
June 9th, 2008 by Daniel Barlow · No Comments
MoCCA 2008 started with an injury Saturday morning, delaying the start of the show. It ended with a mid-afternoon building evacuation Sunday that threatened to deflate the rest of the day.
January 2nd, 2008 by Colin Tedford · 2 Comments
I hope everyone is having a nice 2008 so far. Marek Bennett has redesigned his website around the popular WordPress blogging platform, and now has individual feeds for Mimi's Doughnuts and his comics workshops. You may notice several of those entries in the trusty T&H Blogwatch Box right here; that's because sometimes when you add a new feed to Google Reader, it treats all the existing posts as brand new. C'est la vie…
The Trees & Hills website is due for a makeover as well. I'll be working on this, also using WordPress, and hope to have it done this month. I think I am going to convert the distro first, then the rest of the site. As with any construction project, things may go wonky for a little while, so please bear with us. It'll be much nicer in the end, though!
October 12th, 2007 by Colin Tedford · 3 Comments
Daniel Barlow has called in to report the good vibes so far at SPX – I imagine he'll have a full report when he returns. In the meantime, here's a look at the cover and table of contents of the NEW STARS anthology:


That eye-popping cover is by Gregory Giordano of Burlington, VT. If you're near Bethesda, drop in and pick up a copy at SPX! Otherwise it'll be available online next week, and at finer local retailers as we get it to them.
In honor of the new anthology, plans are afoot to revamp this site to make it easier to use and maintain, so we can keep it updated better; click here for a preview.
October 2nd, 2007 by Daniel Barlow · 1 Comment
Page two of "The Cosmic Cocktail Conundrum" by Dan Barlow, Keith Moriarty and Tim Hulsizer. This is just one of more than a dozen comics that will appear in NEW STARS, a new mini-comics anthology published by the Trees & Hills comics group that will debut at SPX.
September 22nd, 2007 by Daniel Barlow · No Comments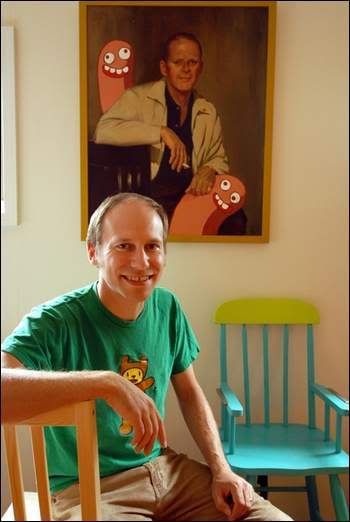 I sat down with James Kochalka (American Elf) earlier this month at his home in Burlington, Vt. Here's the result, which ran in the Sunday Times Argus/ Rutland Herald on Sept. 16.
Cartoonist mines daily grind for new book, comics
September 16, 2007
By DANIEL BARLOW
Vermont Press Bureau
Photo by Jeb Wallace-Brodeur
BURLINGTON – "Squirrelly Gray" may not be the first book James Kochalka has written and drawn for children.
It may, however, be the first he's authored that will be read almost exclusively by kids.
"I think my other books intended for children were mostly read by my adult fans," said Kochalka, a popular indie cartoonist and musician from Burlington. "But I think this book will actually make it into the hands of kids."
The 40-year-old Kochalka, who has spent the last nine years drawing a daily cartoon diary about his life called "American Elf," has long straddled the creative line between entertainment for children and subversive adult humor.
But Kochalka had Eli, his 4-year-old son, in mind when he created "Squirrelly Gray," his first children's book, published last month by Random House. He was appalled by the limited number of books that held his son's interest.
"They're all too safe," he said. "Kids like a little danger and excitement."
More right here.
July 22nd, 2007 by Daniel Barlow · 1 Comment
The Trees & Hills anthology release party on Saturday was a blast! We took pictures the old-fashioned way, so it will be a few more days before they go up here on the site. But until then, here's a video of cartoonists Cat Garza and Marek Bennett jamming on the back porch of the Main Street Museum. They closed out the party!
February 19th, 2007 by Colin Tedford · No Comments
February 5th, 2007 by Colin Tedford · No Comments
The Calendar is finally updated! This month's events (see calendar for more details):
Tuesday 2/6 (6:30-8:30pm): Western MA Comic Creators' Group every 1st Tuesday (Northampton, MA).
Tuesday 2/6 (8:30-10:00pm): monthly Pioneer Valley Comics & Cartoon Schmooze (Northampton, MA).
Saturday, 2/17 (12-5pm): Trees & Hills Drawing Social every 3rd Saturday (Keene, NH).
Hourly Comic Day was swell. At least 3 T&H folk participated, and we'll show those comics off here when I have all three in hand. In the meantime, there are 2 more jams up in the Comics section.
Tim Hulsizer is running a comic art auction for charity; click here to donate art or money.
Keene Free Comics, long dormant, will walk the earth once more to honor TV Turnoff Week, which this year is April 23-29. This special issue of KFC will be 8.5″ x 11″, hopefully 12 pages, and will be aimed at a wide audience (including young folks). The deadline for submissions is March 18. (To contribute a comic and/or help print & distribute, contact: Colin Tedford, colintedford at gmail dot com)